Fatshion Faceoff: Polkadot top
Tags: Dorothy Perkins, Evans, fat fashion, fatshion, Fatshion Faceoff, friends, H&M, LensWay, New Look, New Look Inspire, OOTD, plus size, Primark
Hi lovelies,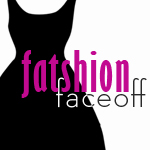 Once again it's Wednesday, and I'm sure you know it's Fatshion Faceoff time! If you're new to the blog, please see here what Fatshion Faceoff is about :). This week's challenge item was chosen by Olivia, and she chose a polkadot top.
I was trying on stuff to wear with my top, and somehow I ended up with a crazy look again. Polkadots and polkadots and white and black reversed ;). It ended up being a cute look though, and these pics were taken on sunny Sunday. I love a day when the weather is lovely and I can just put my wet hair on a bun, throw an outfit on and go for a walk with a friend.





Polkadot top: 14, H&M (similar at New Look, similar at Simply Be) | Biker jacket: 20, Primark (similar at Simply Be, similar at ASOS) | Skirt: 20, New Look Inspire (same in blue) | Knit leggings: 22, New Look Inspire (similar) | Shoeboots: Evans (same at Style369) | Purse: Dorothy Perkins (similar at Urban Outfitters – US, similar at Debenhams) | Glasses: LensWay (similar at Select Specs)
Now let's go see what kind of polkadotted tops the other FF ladies are wearing, I'm sure they're all pretty as always :)!
Dani: DIY Fatshion (USA)
Mhairi: Lilybobombs Lovely Lumps (UK)
Mouna: Brussels Fatshion (Belgium)
Olivia: Wait Until The Sunset (Australia)
SHOP THE POST