Fatshion Faceoff: Valentine's special from IGIGI (plus a giveaway)
Tags: challenge, fat fashion, fatshion, Fatshion Faceoff, IGIGI, IGIGI by Yuliya Raquel, valentine's day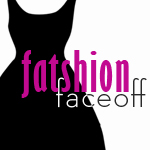 Hello lovelies,
First of all, you are NOT seeing things.. it is a Fatshion Faceoff post, but no, it is not Wednesday. We have a special challenge today, and it deserved its own slot in our schedule :).  If you're new to the blog, please see here what Fatshion Faceoff is about :). So, what is special about this post? First of all, it is not an item based – this is our first theme based Fatshion Faceoff. We got an opportunity to choose our ideal Valentine's Day dresses from the amazing IGIGI by Yuliya Raquel and do the challenge based on that. How exciting is that?!?
IGIGI has the most stunning plus-size dresses and gowns, and I was excited to choose mine. I wanted it to be versatile though, that I can both glam it up or dress down if necessary. I ended up choosing the Rebecca Gown in Evergreen, and the dress is the most amazing shade of green I have ever seen, I absolutely love it! The dress came with the belt, but I ended up wearing it with a black belt, since it fit my whole outfit better. I teamed it up with my sequin blazer, a pair of kitten heels, silver necklace, red lippy and a gorgeous green bracelet that I got from Dani. Now as the only single Fatshion Faceoff-girl, all I need is a date!!! ;)
Dress*: 18/20, IGIGI by Yuliya Raquel | Blazer: 20, Matalan (similar at ASOS Curve, similar at New Look: 1, 2) | Belt: black elastic | Heels: LK Bennett – borrowed from flatmate (similar at New Look, similar at ASOS) | Necklace: Evans (similar at Forever 21) | Bracelet: gift from Dani (similar at Macy's: 1, 2) | Glasses*: Four Eyes | Lippy: Natural Collection Moisture Shine in Crimson – available in Boots (similar by MAC)
So, what do you need to do to enter? Firstly, anyone can enter as IGIGI has international delivery! Then fill in the Rafflecopter below.. the only mandatory thing to do is to leave me a comment and tell which IGIGI dress you would choose for Valentine's Day. You can also get a few extra entries if you like mine and IGIGI's Facebook pages and follow me and IGIGI on Twitter, but these are not mandatory. That is all, nice and easy – so get entering below :)!
Thank you to IGIGI for this opportunity, I'm so excited to see what kind of beautiful dresses the other Fatshion Faceoff ladies chose – I'm SURE they look absolutely stunning! (And of course you have better chances of winning if you enter their giveaways too!)
Dani: DIY Fatshion (USA)
Mhairi: Lilybobombs Lovely Lumps (UK)
Mouna: Brussels Fatshion (Belgium)
Olivia: Wait Until The Sunset (Australia)
SHOP THE POST
* denotes a gifted item