Fatshion Faceoff: Patent shoes
Tags: ASOS, ASOS Curve, challenge, Evans, fat fashion, fatshion, Fatshion Faceoff, Four Eyes, friends, plus size, red lippy, review, Simply Be, Yours Clothing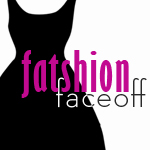 Hello lovelies,
Once again it's Wednesday, and I'm sure you know it's Fatshion Faceoff time! If you're new to the blog, please see here what Fatshion Faceoff is about :). This week's item was chosen by Mhairi, and she chose patent shoes.
Well, if you have followed me for a while then these Evans shoes are not new to you – I have blogged them loads of times already. They are one of my favourites though, and I'm never getting tired of them and their cuteness :). I wore them with this gorgeous dress I got from Simply Be.. now when I first saw the dress I thought that the neckline might be too high for my bust, but when I tried it on and added the ASOS Curve belt I absolutely loved how it looked! I love being 'proved wrong' by fashion – always try things on even if you think they might not work for you! (And thank you so much for taking my pics Isha.)
I know we all want to see the girls' posts now, but please don't forget to enter my anniversary giveaways: a pair of Minnetonka suede moccasins, a £50 voucher to Large Cup Lingerie and the special Valentine's giveaway from IGIGI!
Dani: DIY Fatshion (USA)
Mhairi: Lilybobombs Lovely Lumps (UK)
Mouna: Brussels Fatshion (Belgium)
Olivia: Wait Until The Sunset (Australia)
SHOP THE POST
* denotes a gifted item