Fatshion Faceoff: Statement necklace
Tags: challenge, Evans, fat fashion, fatshion, Fatshion Faceoff, friends, Maybelline, OOTD, plus size, Primark, Torrid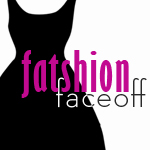 Hello my lovelies,
Once again it's Wednesday, and I'm sure you know it's Fatshion Faceoff time! If you're new to the blog, please see here what Fatshion Faceoff is about :). This week's item was chosen by me, and I chose a statement necklace.
I chose to wear my bargain buy from Primark for this challenge. I love this necklace, it's huge, gold, neon and spikey!
Now we must go and see the other girls' necklaces – I bet they're gorgeous!
Dani: DIY Fatshion (USA)
Mhairi: Lilybobombs Lovely Lumps (UK)
Mouna: Brussels Fatshion (Belgium)
Olivia: Wait Until The Sunset (Australia)
ps. Did you see my post on Pink Clove, a new plus-size brand? Check it out and enter the £100 giveaway too – it ends tomorrow!