Double Vision: Lane Bryant
Tags: ASDA, challenge, Double Vision, fat fashion, fatshion, FFFW, friends, George, Lane Bryant, Maybelline, OOTD, plus size, Primark, red lippy
Hey lovelies,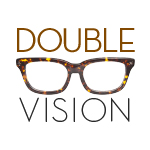 This is the most exciting post I've done in a while, maybe ever. I'm sure if you are a regular reader you have noticed that Dani of DIY Fatshion and me are totally great friends. We met on Tumblr even before we started our blogs, and she is definitely one of my BFF's, even though she is in Texas and I'm in London. So I'm sure you can imagine how much we want to meet and hang out for real, right? We have been thinking and dreaming and planning for ages, and now it will finally come true! We have been saving money, rented an apartment and finally bought our flights this week.. and both of us are flying to New York for Full Figured Fashion Week 2013! I'm seriously crazy excited, I can't wait to meet Dani, go to my favourite city again, and of course meet other bloggers and go to FFFW events. Whooooo!
So, that brings me to this special Double Vision! In this challenge Dani and I are choosing a theme, item, movie character.. whatever we come up with basically, and style those our own way and post at the same time, more about the challenge here. This week we are wearing Lane Bryant, and there is an exciting reason why. Both of us were chosen to take part in Lane Bryant Blogger Conference at FFFW, and as a part of the invitation we were given $200 gift card to purchase an outfit that will be featured in a style challenge at Lane Bryant Facebook page. Lane Bryant has had an amazing 'Buy one, get one free'-event this week, and I'm slightly jealous to the US bloggers who could go to the store to get their outfits.. haha (if you live in the US, you still have time until the end of today to use this discount). Since I live in the UK, I could choose items worth $200 from the site, and the lovely Lindsey from Lane Bryant kindly sent them to me. I chose a grey t-shirt with amazing neon yellow lace shoulder details, black jeggings, GORGEOUS nude peep toe heels with neon yellow accents and cool wayfarer sunnies. And from my own closet I added a bright coral lippy, nude/coral clutch and spike necklace with neon yellow accents. I think this is a really nice way to mix neutrals and neons, and I think this t-shirt and the heels will become my wardrobe favourites this summer!
T-shirt*: 22/24 US, Lane Bryant | Jeggings*: 22 US, Lane Bryant | Heels*: 9W US, Lane Bryant | Sunnies*: Lane Bryant | Clutch: George at ASDA (amazing neon yellow clutch at New Look)| Necklace: Primark (neon yellow bead spike necklace at ASOS) | Lippy: Maybelline Colorsensational Vivids 910, Shocking Coral (UK link, US link)
Can't wait to see all the bloggers' looks at Lane Bryant Facebook page – remember to check it out mid-May :). But first let's go see what Dani chose, I have a feeling that she's got some neon accents going on too ;) – clickity to DIY Fatshion!
SHOP THE POST
* denotes a gifted item