Fatshion Faceoff: '80s inspired (feat. awesomeness from Simply Be)
Tags: challenge, Converse, fat fashion, fatshion, Fatshion Faceoff, friends, Gogo Philip, Maybelline, OOTD, plus size, red lippy, review, Simply Be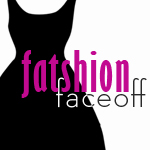 Hello lovelies,
First of all, sorry for my absence from all things blogverse lately. Like I explained in this post, I've been really busy and stressed, especially with my house move. I'm happy to tell you that I'm all moved in now, BUT half of my stuff is still unpacked and all over the place. I'm trying to get everything in place before my holiday – going to Finland from 7th to 13th August – so please wish me luck :)! I'll slowly but surely try to get back to updating more regularly, and I have one very exiting post in the pipeline!
Anyway, I'm sure you want me to get back to usual business and outfits.. haha.  So, once again it's Wednesday, and I'm sure you know it's Fatshion Faceoff time! If you're new to the blog, please see here what Fatshion Faceoff is about :). This week's theme was chosen by Olivia, and she chose '80s inspired'.
I was asked by Simply Be if I wanted some pieces from their new AW collection, and I was sent this amazing outfit a while ago. The reason why I haven't posted it earlier is that it fits this theme perfectly and I wanted to wait! These three pieces (animal print blazer, PU skirt and checkerboard top) spoke to me instantly when I saw the new collection. I could see that they'd look awesome together, and also very '80s. I finished the look with a pair of Converse and these amazingly tacky palm tree earrings by Gogo Philip. Being a child of the '80s who always dressed very boringly during '80s and '90s, I was VERY drawn to all these pieces – I guess I'm reliving my youth this way ;).
How do you feel about '80s fashion? Love it or hate it, either way let's go and see how the other girls did with this theme! :)
Dani: DIY Fatshion (USA)
Mhairi: Lilybobombs Lovely Lumps (UK)
Mouna: Brussels Fatshion (Belgium)
Olivia: Wait Until The Sunset (Australia)
SHOP THE POST
* denotes a gifted item