Fatshion Faceoff: Peplum dress
Tags: challenge, fat fashion, fatshion, Fatshion Faceoff, Forever 21, Forever21+, friends, Maybelline, New Look, OOTD, plus size, red lippy, thrifting, vbo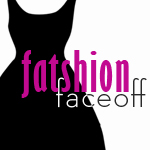 Hello my lovelies,
Once again it's Wednesday, and I'm sure you know it's Fatshion Faceoff time! If you're new to the blog, please see here what Fatshion Faceoff is about :). This week's item was chosen by Mouna, and she chose a peplum dress.
This post is bringing something new to the blog… AND I'm trying something that I have been scared about. Peplums have been on trend for ages now, probably the whole time that I have had this blog, yet I didn't have any peplum items in my wardrobe. I'm usually always wearing what I want, whether that is 'flattering' or not, but somehow I thought that peplums would be the most unflattering thing that I could put on. So, while Mouna and I were shopping in NYC we spotted this classic black peplum dress, and since it was a bargain Mouna said I needed to buy it. And here you have it.. me in a peplum dress :). I actually love the top part of this dress, just wishing that the skirt would be a bit longer and bit less tight – maybe I just need to get my ass a size smaller, haha ;).




Dress: 3X, Forever 21+ (still available at US site, similar at New Look Inspire)| Bag: unknown – thrifted (zebra print bags at Very & Debenhams) | Heels: New Look (similar coloured at Evans) | Bracelets: Evans, Ashley Stewart | Glasses: Select Specs | Lippy: Maybelline Color Sensational in Pleasure Me Red
I have been waiting for a chance to show you this awesome zebra print bag! I absolutely adore it, and I picked it up unused and totally free at VoucherCodes.co.uk Most Wanted SwapShop a few months ago (ha, I'm actually in one of the pics on that link.. I didn't even realise before). I actually think I need to start wearing more plain coloured outfits, that way I can wear this bag more too!
Anyway, I ended up liking my first attempt in wearing peplum, and you might see some in the future too. (Just when everyone's all tired of peplums, right? Haha.) Now let's go and see what kind of peplum dresses the other girls are rocking..
Dani: DIY Fatshion (USA)
Mhairi: Lilybobombs Lovely Lumps (UK)
Mouna: Brussels Fatshion (Belgium)
Olivia: Wait Until The Sunset (Australia)
SHOP THE POST