Fatshion Faceoff: Skulls
Tags: ASOS, ASOS Curve, challenge, Evans, fat fashion, fatshion, Fatshion Faceoff, friends, New Look, New Look Inspire, OOTD, plus size, Primark, red lippy, Rimmel, TOMS
(Suomeksi kuvien alla)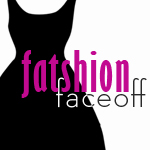 Hello my lovelies,
It's time for Fatshion Faceoff! I've had to skip a few times due to being so busy, but I'm back again. If you're new to the blog, please see here what Fatshion Faceoff is about :). This week's theme was chosen by Mouna, and she chose 'Skulls'.
I thought that I might have to skip this one too, as I thought I don't have anything with skulls in them… Until I remembered this scarf that is. (And now I remember that I do have one necklace with skulls too.) I wore this outfit last Saturday, when I went to the Harry Potter Studio Tour with my friend Isha. The tour was awesome, and since I took loads of photos I might do a post about it at some point. Would you guys be interested in reading more?





Jacket: 20, New Look Inspire (some sizes at New Look, some sizes at ASOS) | Dress: 24, ASOS Curve (same with short sleeves) | Leggings: 22, Evans | Shoes: TOMS | Necklace: Primark | Scarf: a gift (similar at Daniel) | Bag: Primark (similar by River Island, similar at New Look) | Glasses: Select Specs | Lippy: Rimmel London Kate Moss shade 110 (UK link, US link)
Takki: 20, New Look Inspire (joitain kokoja New Lookissa, joitain kokoja ASOSilla) | Mekko: 24, ASOS Curve (sama lyhythihaisena) | Leggingsit: 50, Evans | Kengät: TOMS | Kaulakoru: Primark | Huivi: lahja (saman tyylinen) | Laukku: Primark (saman tyylinen River Islandilta, saman tyylinen New Lookilta) | Rillit: Select Specs | Huulipuna: Rimmel London Kate Moss sävy 110
Heipsan!
Nyt olis jälleen Fatshion Faceoffin aika. Olen kiireen takia joutunut jättämään pari edellistä Faceoffia väliin, mutta nyt onneksi ehdin postaamaan! Jos et ole vielä tietoinen tästä 'projektista' jota teen 4 muun plussa-bloggaajan kanssa, niin lisätietoa (englanniksi) löytyy täältä. Tämän viikon teemaksi Mouna valitsi 'Pääkallot'.
Aluksi kuvittelin, että mun pitäisi jättää tämäkin viikko väliin, sillä en muistanut omistavani yhtään pääkallo-aiheista vaatetta. Sitten yllättäen tämä lahjaksi saamani huivi tuli mieleeni, ja nyt tätä kirjoittaessani muistin, että onhan mulla yks kaulakorukin jossa on pääkalloja.
Tämä asu oli päälläni viime lauantaina, jolloin kävin Harry Potter studio kierroksella ystäväni Ishan kanssa. Kierros oli loistava, ja siellä oli NIIN paljon nähtävää. Yllättäen otin valtavan määrän valokuvia, ja ajattelin tekeväni niistä postauksen. Kiinnostaisiko teitä lukea siitä lisää?
OTHER FF GIRLS / MUUT FF BLOGGAAJAT
Dani: DIY Fatshion (USA)
Mhairi: Lilybobombs Lovely Lumps (UK)
Mouna: Brussels Fatshion (Belgium)
Olivia: Wait Until The Sunset (Australia)
SHOP THE POST / SHOPPAA ASU