Fatshion Faceoff: Sparkly necklace
Tags: challenge, fat fashion, fatshion, Fatshion Faceoff, friends, La Moda, Maybelline, New Look, OOTD, plus size, red lippy, SpecsPost, Topshop, Yours Clothing
(Suomeksi kuvien alla)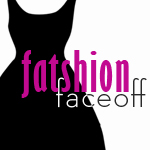 Hello my lovelies,
And Happy New Year 2014! It's the first day of a new year, but it's also a Wednesday, and it's time for Fatshion Faceoff again. If you're new to the blog, please see here what Fatshion Faceoff is about :). This week's item was chosen by me, and I chose a sparkly necklace. I decided to do this very autumnal/wintery look, and I really like all the elements in this outfit and how they look together. And since all the other elements are kind of earthy, I think the necklace is still a statement :).
Villapaita: 16 UK, Topshop (samantyylinen Boohoo:lla, pidempi malli ASOS Curvella) | Hame: 26/28 UK, Yours Clothing | Cowboy saappaat: Yours Clothing | Kaulakoru: New Look (samantyylisiä ASOSilla: 1, 2) | Laukku: La Moda (samantyylinen ASOS:illa, New Look:illa) | Rillit: SpecsPost | Huulipuna: Maybelline Color Sensational Vivids in Vibrant Mandarin
Heippa!
Ja hyvää uutta vuotta 2014! On uuden vuoden ensimmäinen päivä, mutta on myös keskiviikko, ja olis jälleen Fatshion Faceoffin aika. Jos et ole vielä tietoinen tästä 'projektista' jota teen 4 muun plussa-bloggaajan kanssa, niin lisätietoa (englanniksi) löytyy täältä. Tämän viikon teemaksi minä valitsin kimaltelevan kaulakorun. Päädyin tällaiseen aika syksyiseen/talviseen kokonaisuuteen, ja tykkään miten asun eri osat sopii yhteen. Ja koska kaikki muut osat ovat aika maanläheisiä, niin kaulakoru on edelleen näyttävässä osassa :).
OTHER FF GIRLS / MUUT FF BLOGGAAJAT
Dani: DIY Fatshion (USA)
Mhairi: Lilybobombs Lovely Lumps (UK)
Mouna: Brussels Fatshion (Belgium)
Olivia: Wait Until The Sunset (Australia)