Double Vision: Jeans & t-shirt
Tags: challenge, Clothing at Tesco, Double Vision, F&F, F&F True, fat fashion, fatshion, friends, LensWay, MAC, OOTD, plus size, Primark, Shopbop, So Fabulous, Tesco
Hey lovelies,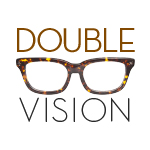 After a few week's break it is Double Vision time again! In this challenge my amazing friend Dani and I are choosing a theme, item, movie character.. whatever we come up with basically, and style those our own way and post at the same time, more about the challenge here. This week's theme was chosen by me, and I chose 'Jeans & t-shirt'. Now this is something that Dani wears a lot, but I wear basically never, so it was more of a challenge to me, haha ;).
I wish I could wear jeans more, but I feel uncomfortable sitting all day at work in them. I should start wearing them more on the weekends though, as I really like this look I came up with. (Sorry for the sick and tired looking face..)
Jacket: 22, F&F at Tesco (tuxedo jacket at Macy's, lace jacket at Evans) | T-shirt: 26, So Fabulous via eBay (similar at ASOS Curve: 1, 2) | Jeans: 24, F&F True at Tesco (similar at ASOS Curve) | Booties*: Luxury Rebel at Shopbop (same in burgundy at Bloomingdale's, similar at ASOS: 1, 2) | Glasses: LensWay (similar at Select Specs) | Necklace: Primark (awesome spiked necklaces at Boohoo and New Look: 1, 2) | Lippy: MAC Viva Glam Nicki
Now let's click to DIY Fatshion and see Dani's outfit – I bet she looks babely!
SHOP THE POST
* denotes a gifted item