Tags: American Rag, ASDA, ASOS, ASOS Curve, challenge, Cherry Baby, Evans, fat fashion, fatshion, Fatshion Faceoff, Four Eyes, friends, Macy's, OOTD, plus size, review, We Love Colors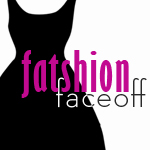 Hello lovelies,
Once again it's Wednesday, and I'm sure you know it's Fatshion Faceoff time! If you're new to the blog, please see here what Fatshion Faceoff is about :). This week's item was chosen by Olivia, and she chose a red dress.
I took these photos last weekend, and I have blogged this dress before, but since it's the only red dress I own, I had to ;). Anyway, I received an amazing red dress on the post yesterday – sadly it was too late to take new photos though, so you will see that one later. I don't mind much though, since I like how this outfit turned out. I wore the dress with ASOS Curve floral sheer shirt, Evans booties, George at ASDA clutch and We Love Colors tights. The cherry on the top (pun very much intended, haha) was this beautiful key necklace that I was sent by Cherry Baby. It gave the outfit an extra vintagey and romantic feel, and I adore the design of it. Cherry Baby has a lot of very reasonably priced cute and quirky jewellery – I definitely recommend them!
Dress: 2X, American Rag from Macy's (similar at Macy's, ASOS Curve, Simply Be: 1, 2) | Shirt: 24, ASOS Curve (similar at Forever 21+: UK, US, Nordstrom, George at ASDA, Eloquii, Matalan) | Tights: E, We Love Colors | Booties: Evans (similar at Clarks: 1, 2, New Look: 1, 2) | Necklace*: Cherry Baby | Clutch: George at ASDA (similar-ish at ASOS, and this ASOS one I just have to link since it's very awesome | Glasses*: Four Eyes | Lippy: Accessorize, Coral Crush With Love (similar by MAC)
Remember to check the blog tomorrow, I will post something that I am VERY excited about!!! Before that check the red dresses that the ladies are wearing <3
Dani: DIY Fatshion (USA)
Mhairi: Lilybobombs Lovely Lumps (UK)
Mouna: Brussels Fatshion (Belgium)
Olivia: Wait Until The Sunset (Australia)
SHOP THE POST
* denotes a gifted item