Tags: ASOS, ASOS Curve, Double Vision, fat fashion, fatshion, Forever 21, Four Eyes, friends, OOTN, plus size, Primark
Hey my lovelies,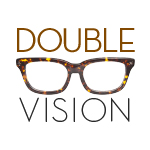 It's Double Vision time again! In this challenge my amazing friend Dani and I are choosing a theme, item, movie character.. whatever we come up with basically, and style those our own way and post at the same time, more about the challenge here. This week's theme was chosen by Dani, and she suggested that we'd show our ideal New Year's Eve outfits.
Well, it's NYE today, and Dani and me are both sick and not going to parties. But if I was going, this outfit would definitely be an ideal choice for me. I'm absolutely in love with this dress, I wore it to our office Christmas party a few week's ago, and I felt so pretty in it. I have wanted a tutu-dress for ages, and when I saw this at Becky's blogsale, I knew I had to have it. It fits like a dream and I feel like a princess in it :))).
Dress: 22, ASOS Curve (similar in blush, similar in red/black) | Tights*: 22-26, Lycra Xceptionelle 40 denier 3D tights from Yours Clothing | Heels: Primark (similar at ASOS: 1, 2, 3, similar at New Look) | Clutch: Primark (similar at ASOS: 1, 2, 3, similar at New Look: 1, 2) | Hairband: Forever 21 (similar at Forever 21: 1, 2, 3) | Glasses*: Four Eyes | Lippy: Natural Collection Moisture Shine in Rose Bud – available in Boots (similar by MAC)
Do you have plans for NYE? Big parties? Just chilling at home? Whatever your plans, I hope that gives you a chance to dress up nicely and feeling gorgeous :). Now let's go see how amazing Dani looks.. clickity to DIY Fatshion!
Happy New Year to you all <3, I'll see you in 2013!
SHOP THE POST
*denotes a gifted item