Fatshion Faceoff: Floral dress
Tags: challenge, Clothing at Tesco, Evans, fat fashion, fatshion, Fatshion Faceoff, friends, LensWay, New Look, New Look Inspire, OOTD, plus size, Primark, vbo
Hello my lovely readers,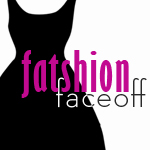 Once again it's Wednesday and I'm sure you know it's Fatshion Faceoff time! If you're new to the blog, please see here what Fatshion Faceoff is about :). This week's challenge item was chosen by Mhairi, and she chose a floral dress.
I've had this dress for ages (well it feels like ages, but really it's been like 6 months, haha), and it's been on the blog already. Dani had the same dress on in the bodycon challenge a few weeks ago and she reminded me of this dress's existence and I thought it goes well with this Autumn's trends. I added my new amazing glittery boots and the parka you already saw a few posts ago. I really love this outfit myself, it's both glam and relaxed at the same time.
Do you like wearing floral dresses? I love these darker ones this Autumn <3!
Now let's go see what kind of dresses the other FF ladies are wearing, I'm sure they look fabulous as always!
Dani: DIY Fatshion (USA)
Mhairi: Lilybobombs Lovely Lumps (UK)
Mouna: Brussels Fatshion (Belgium)
Olivia: Wait Until The Sunset (Australia)
SHOP THE POST