Tags: Avenue, fat fashion, fatshion, Fatshion Faceoff, friends, H&M, MAC, OOTD, plus size, Primark
Hi lovelies,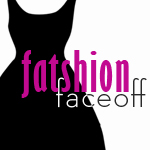 Wednesday is here again, and I'm sure you know it's Fatshion Faceoff time! If you're new to the blog, please see here what Fatshion Faceoff is about :). This week's challenge item was chosen by me and I chose crazy/patterned legwear.
I have wanted to do this item for ages. I have LOADS of crazy leggings that I never seem to wear, and I really wanted to do this post. These are basically the craziest leggings I own, haha, leopard print, flowers, yellow, pink, blue, green, black… They are also sheer. So insane that I LOVE them :D.
I totally have to start wearing mine more.. they make otherwise simple outfits amazing! Have you got crazy leggings or tights?
Now let's go see what kind of crazy or patterned legwear the other FF ladies are wearing, I'm sure they look fabulous as always! …And I wonder if Dani is wearing these same ones ;)
Dani: DIY Fatshion (USA)
Mhairi: Lilybobombs Lovely Lumps (UK)
Mouna: Brussels Fatshion (Belgium)
Olivia: Wait Until The Sunset (Australia)
SHOP THE POST