Double Vision: Something new, something old
Tags: ASOS, ASOS Curve, challenge, charities, Dorothy Perkins, Double Vision, fat fashion, fatshion, friends, H&M, Maybelline, OOTD, plus size, red lippy, thrifting
Hey lovelies,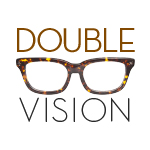 It is Sunday and it's time for Double Vision again! In this challenge my amazing friend Dani and I are choosing a theme, item, movie character.. whatever we come up with basically, and style those our own way and post at the same time, more about the challenge here. This week's theme was chosen by Dani, and she chose 'Something new, something old'.
As I have old brown shoes and accessories that I LOVE, I wanted to wear them with something new. Now this ASOS Curve dress is just amazing. I had seen pictures of it, seen other bloggers talk about it, lusted after it.. but I didn't order because of two reasons: the price, and the fact that I was sure that it wouldn't work with my apple-shape. Then I saw it was part of ASOS 50% off 50 items Bank Holiday promotion, which meant the pricetag was only £30, and I decided to take the plunge. And you know what, I'm so happy I did! I was right that it looks wrong on my bodyshape.. I sized up to 26 to ensure that my belly would fit in the fitted shape, and that meant the dress was way too long and the waist was way too low and looked 'interesting'. BUT when I added a belt and got the extra fabric from the length as a 'bubble' over the belt the look of the dress totally changed. I absolutely adore this dress, and I'm sure in some of my FFFW photos you will see a dressed up version of it. In this post I dressed it down with these old accessories, and I realised how versatile this dress is. And once again I was proved wrong.. I think almost anything could work for any body shape, you just need to find ways to make it work. In this case adding a belt changed everything.
Dress: 26, ASOS Curve | Belt: XL, Dorothy Perkins (similar at Dorothy Perkins) | Booties: Jones Bootmaker – thrifted (similar at Dorothy Perkins) | Bag: H&M (similar at Accessorize) | Glasses: Select Specs | Lippy: Maybelline Color Sensational Vivids in Electric Orange (UK link, US link)
The dress isn't the only new thing in this post either.. I got two new pairs of glasses from Select Specs a few weeks ago. It's the same frame that I have gotten from then before in matte black, but in two new colours.. tortoiseshell and shiny black. I love this shape, and the brown tones of this frame makes my face look 'softer' somehow. I can't believe that I paid only £10 a pair for these!
Ok, enough about me and my outfit.. let's go see what new and old stuff Dani decided to wear – click to DIY Fatshion!
SHOP THE POST