Fatshion Faceoff: Lane Bryant dress
Tags: challenge, Evans, fat fashion, fatshion, Fatshion Faceoff, friends, H&M, Lane Bryant, OOTD, plus size, red lippy, review, Rimmel
(Suomeksi kuvien alla)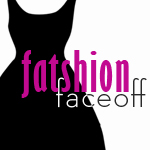 Hello my lovelies,
It's time for Fatshion Faceoff again! If you're new to the blog, please see here what Fatshion Faceoff is about :). This week's item is a dress that was kindly sponsored to our challenge by Lane Bryant. We love doing posts where we can really show how the same dress looks like on different body types and when it's styled differently. The dress we were sent is this gorgeous black and white Skater sweater dress.
The dress is knit material and feels warm and winter-y. I love that it has long sleeves (well a bit too long for my short arms to be honest, but can be easily rolled shorter) and the striped top and it's different knit styles is a nice touch, overall a really lovely dress. I'm between sizes myself, I would have needed a 20/22 US, but since my options were 18/20 and 22/24, I went with the latter. That's why the sleeves are long and the waist is a bit loose, but I actually prefer this looser fit. Styling wise I decided to keep it simple and classy, and team it up with a black clutch, black heeled ankle boots and red lipstick.




Dress*: 22/24 US, Lane Bryant | Boots: Evans | Clutch: H&M | Lippy: Rimmel London Kate Moss shade 110
Mekko*: 22/24 US, Lane Bryant | Saappaat: Evans | Laukku: H&M | Huulipuna: Rimmel London Kate Moss sävy 110
Moikka!
Nyt olis jälleen Fatshion Faceoffin aika. Jos et ole vielä tietoinen tästä 'projektista' jota teen 4 muun plussa-bloggaajan kanssa, niin lisätietoa (englanniksi) löytyy täältä. Tämän viikon aiheena on tämä mekko, joka meille kaikille lähetettiin Lane Bryantin toimesta. Lane Bryant on USA:n laajin plussavaatteita myyvä ketju, ja oli hienoa saada heidät sponsoreiksi. Yleensähän teemme nämä meidän teemat omista vaatekaapeistamme löytyvien vaatteiden ja asusteiden kanssa, mutta sponsoroidut teemat ovat huippuja etenkin siksi, että sekä brändi että meidän lukijat näkevät miltä sama mekko näyttää erilaisilla kroppamalleilla ja stailaustyyleillä.
Mekko on neule-materiaalia, ja tuntuu lämpimältä ja talveen sopivalta. Pitkät hihat on aivan ihanat (vaikka minä tynkäkäsinen joudun niitä vähän rullaamaan), ja raidallisen yläosan erilaiset neulostyylit on kiva yksityiskohta. Olen itse Lane Bryant-koissa kahden koon välissä. Tarvitsisin USA koon 20-22, mutta vaihtoehtoina oli 18/20 tai 22/24. Päädyin ottamaan suuremman version, ja tosiaan hihat ovat pitkät ja vyötärön kohta on vähän löysä, mutta silti tein oikean valinnan – tykkään tästä enemmän tällaisena löysänä mallina. Päätin stailata mekon simppelisti mutta klassisesti, joten mekon seurana ovat musta clutch-laukku, mustat korolliset nilkkasaappaat ja tietysti punainen huulipuna.
OTHER FF GIRLS / MUUT FF BLOGGAAJAT
Dani: DIY Fatshion (USA)
Mhairi: Lilybobombs Lovely Lumps (UK)
Mouna: Brussels Fatshion (Belgium)
Olivia: Wait Until The Sunset (Australia)
 * denotes a gifted item / * tuote blogin kautta saatu