Tags: challenge, charities, Clothing at Tesco, Domino Dollhouse, Evans, fat fashion, fatshion, Fatshion Faceoff, Four Eyes, friends, Lindex, Old Navy, OOTD, plus size, red lippy, review, thrifting, We Love Colors
Hi lovelies,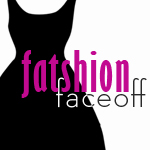 Once again it's Wednesday, and I'm sure you know it's Fatshion Faceoff time! If you're new to the blog, please see here what Fatshion Faceoff is about :). This week's challenge item was chosen by Mhairi, and she chose a headscarf that is worn rockabilly style.
So, we have done Fatshion Faceoff every week since March, but this was the first time when I felt really out of my comfort zone. 'But it's just a scarf', I hear you say.. well yes it is, but even though I love petticoats and full skirts, I have never been into the whole rockabilly look. Of course I have admired girls who do it well and look amazing (like the beautiful Diana), but I never thought it would be my thing. Somehow adding the scarf to something that I would normally wear made it too rockabilly for me, even though it's just a scarf, haha. And also my head is shaped in a way that I can never wear something that goes round my head, they ALWAYS slip off or ride up, so there was actual comfort factor in this that took me out of my comfort zone too.
BUT I LOVE THIS LOOK. It's as full-on rockabilly as I managed to with the stuff that I have in my wardrobe, but I love black with pops of red. (Like you have seen in few posts before.) And my new glasses go amazingly with this outfit, don't they? I was sent them for a review from Four Eyes, and I LOVE them. They are very good quality, and my prescription is spot on. These glasses are actually listed as men's glasses on the site, but I decided not to care, since I feel that they're more unisex anyway ;). I also love the design and the feel of their website, with lovely big images, so you definitely see the details of the glasses. These ones have a tortoiseshell insides, which I think is a cool touch. I definitely recommend them if you are interested in quality glasses in reasonable prices. Love!



Scarf: Lindex (similar at Target – US, similar at New Look) | Dress (worn as a top): size unknown, thrifted (similar top at Curvissa) | Skirt: XL, Old Navy – altered (similar at ASOS) | Petticoat: XL, Domino Dollhouse | Tights: E, We Love Colors | Shoes: Evans (similar by Barratts) | Glasses*: Four Eyes | Nail polish*: Casino Nights, F&F at Tesco (similar by O.P.I) | Lippy: Natural Collection Moisture Shine in Crimson – available in Boots (similar by MAC)
Now let's go see how the other Fatshion Faceoff girls did with their rockabilly style scarves… I wonder if they went with the petticoat route too?
Dani: DIY Fatshion (USA)
Mhairi: Lilybobombs Lovely Lumps (UK)
Mouna: Brussels Fatshion (Belgium)
Olivia: Wait Until The Sunset (Australia)
SHOP THE POST
*denotes as gifted item