Double Vision: Leather skirt & polkadot heels
Tags: ASOS, challenge, Double Vision, fat fashion, fatshion, friends, LensWay, OOTD, plus size, Primark, Simply Be, vintage
Hello lovelies,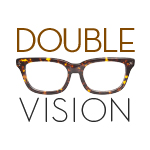 I have something exciting and new for you this Sunday: Double Vision! I assume you all know that I'm a part of a weekly challenge called Fatshion Faceoff. All that started back in March when Dani and I wanted to start a blogger challenge. We found awesome ladies to do the challenge with *waves to Olivia, Mouna and Mhairi* and it's been amazing and inspiring.
But since the beginning Dani and I were also talking about doing some kind of challenge just the two of us. If you are a reader of both of our blogs you might have noticed that we have A LOT of same/similar items of clothing, and we send each other clothing packages every once a while.. and we have become really great friends during our blogging journey that we started around the same time. We have silly chats over Skype and we make plans for our blogs and ask each others opinions on outfits etc. (Well I know I do!) So I'm extremely happy to do this new challenge with her <3.
Double Vision is different to Fatshion Faceoff in a way that we're not limiting ourselves to only items of clothing, one week we might be using the same movie for outfit inspiration, the next we might find an outfit worn by a celebrity and do our own spin on it. This week we are doing an item though, or two items actually ;). I have been DYING to do a post with my faux leather skirt, and it seems perfect to finally do a post with it as the first post of this challenge. Dani and I also have the same ASOS heels (since I was a total copycat and bought them after seeing them on her post, haha), so we added them to the challenge too. So wanna see what I came up with?

Faux leather skirt: 24, Simply Be | Polkadot heels: ASOS | Top: 18, Primark (similar) | Collar: vintage (similar on Etsy) | Handbag: vintage (similar) | Glasses: LensWay (similar) | Lippy: Natural Collection Moisture Shine in Pink Mallow (available in Boots)
I wore my faux leather skirt from Simply Be, which I LOVE. I've had it for over a month now, but it has been too hot to wear it. Finally I can, yay! I tried both my usual size 22 and this 24, all because of the pleats. Since the biggest part of my belly is actually size 24-26, the pleats looked quite weird when I tried the size 22. 22 sat better on my super high waist though.. but the overall look was much better in 24, so that size was the one I kept. I teamed it up with a navy top, which goes well with the heels obviously. And the 'cherry on top' is this gorgeous crocheted collar that my mom sent me a while ago. This was made to her by my grandma when my mom was around 20, which means that the collar is around 50 years old. I absolutely LOVE it, and I wish I'd find a nice blouse to wear it with. (I keep seeing a sheer black blouse in my daydreams, but I NEVER find one in the shops, or if I do they are too small around my bust… one of these days I will find you blouse, I willllllllll!)
Hope you liked my take on this challenge. I can't wait to wear this outfit, maybe it's not too fancy to work ;)? Now let's go to DIY Fatshion to see what Dani did – I'm sure she looks totally fabulous!