Fatshion Faceoff: Knee-high boots
Tags: Accessorize, ASOS, ASOS Curve, challenge, Evans, fat fashion, fatshion, Fatshion Faceoff, friends, LensWay, OOTD, plus size, Primark, red lippy, Rimmel, We Love Colors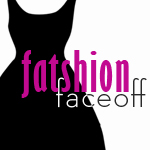 Hello lovelies,
Once again it's Wednesday, and I'm sure you know it's Fatshion Faceoff time! If you're new to the blog, please see here what Fatshion Faceoff is about :). This week's theme was chosen by Olivia, and she chose knee-high boots/over the knee boots.
Now I'm definitely cheating in this challenge… these boots are mid-calf length, BUT they are the only 'long' boots that I own. ALL the others are ankle boots or shoe boots. So please forgive me on this ;). I went for a 'country girl' look, which in my opinion would look better without the black tights, but it was too cold to be without them. I broke my shopping ban a bit when my mom was visiting London (I couldn't let her do ALL the shopping, haha), and this bargainous £6 skirt from Primark was one of my purchases. I wore it with my current wardrobe favourite, my ASOS Curve denim shirt which I love to bits – I could seriously wear it with everything :)!
I'm sure I'm the only 'failing fashionista', and the other girls do have actual knee-high boots.. Let's go see!
Dani: DIY Fatshion (USA)
Mhairi: Lilybobombs Lovely Lumps (UK)
Mouna: Brussels Fatshion (Belgium)
Olivia: Wait Until The Sunset (Australia)
SHOP THE POST