Fatshion Faceoff: Band t-shirt
Tags: ASOS, ASOS Curve, challenge, fat fashion, fatshion, Fatshion Faceoff, friends, LensWay, OOTD, plus size, Primark, vbo
Hi lovelies,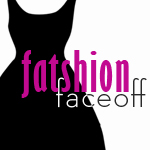 Once again it's Wednesday, and I'm sure you know it's Fatshion Faceoff time! If you're new to the blog, please see here what Fatshion Faceoff is about :). This week's challenge item was chosen by Mouna, and she chose a slogan/band/movie/etc t-shirt.
Ok, confession time… I have a 'dark past' with boybands.. been a fan since 1988 or so, starting from NKOTB, then to East 17 and Take That, then to Backstreet Boys, 'NSync and Westlife, and then back to Take That ;D. So when I saw this crop top for £3 in Primark I HAD TO buy it for this challenge (it might become only a night shirt after this though). But hey, it's kinda cute, and Robbie is between my boobs.. which can never be a bad thing, haha ;). The boots are also a total bargain from Primark, they were reduced to £6, and I couldn't leave the store without them!
But what about this skirt then.. SERIOUSLY?!? I ordered it when it was on sale at ASOS, only because I was so curious about it. I thought that it was totally amazing when it first came to the site, but I was SURE that it would only work for plus size girls with long legs and lower waist than me. But what a surprise I got when I put it on!!! I think it really works, or what do you think ladies? Another proof that you should always try things on cos you never know how they'll look like and you might be positively surprised.





Top: 20, Primark (similar with a cross at New Look) | Skirt: 24, ASOS Curve | Boots: Primark (similar in black by ALDO) | Headband: New Look (similar at Forever 21) | Glasses: LensWay (similar at Select Specs)
Are you a fan of any band or movie etc? Do you wear their t-shirts? Do you think they can be fashionable?
Now let's go see who/what the other Fatshion Faceoff girls are wearing…
Dani: DIY Fatshion (USA)
Mhairi: Lilybobombs Lovely Lumps (UK)
Mouna: Brussels Fatshion (Belgium)
Olivia: Wait Until The Sunset (Australia)
SHOP THE POST