Double Vision: Shorts
Tags: challenge, Double Vision, fat fashion, fatshion, friends, New Look, New Look Inspire, OOTD, plus size, Primark, red lippy, Rimmel, Select Specs, Yours Clothing
Hey lovelies,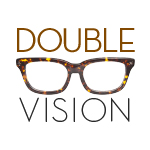 After a few week's break, it is time for Double Vision again! In this challenge my amazing friend Dani and I are choosing a theme, item, movie character.. whatever we come up with basically, and style those our own way and post at the same time, more about the challenge here. This week's theme was chosen by Dani, and she chose 'Shorts'.
I've been wearing my two pairs of denim shorts A LOT this spring, the studded ones from ASOS Curve, and these light denim ones from New Look Inspire. I have also fallen in love with large, blingy statement necklaces, and I already mentioned in this post that I will be getting another one.. and this is the new one.
I also turned 35 this week, and this is another one of my 'I don't give a crap' outfits.. I like dressing like teenagers, haha, even though that isn't 'suitable' for women my age. Screw that!
Now let's clickity to DIY Fatshion and see what kind of shorts Dani wore :)!
SHOP THE POST
* denotes a gifted item