Fatshion Faceoff: Colourful blazer
Tags: bonprix, Carmakoma, challenge, Evans, fat fashion, fatshion, Fatshion Faceoff, friends, OOTD, plus size, Primark, red lippy, Rimmel, Select Specs, Yours Clothing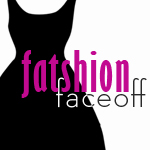 Hello lovelies,
Once again it's Wednesday, and I'm sure you know it's Fatshion Faceoff time! If you're new to the blog, please see here what Fatshion Faceoff is about :). This week's theme was chosen by Mouna, and she chose a colourful blazer.
I'm sure you know that blazers are the new love of my life, I just can't have enough of them! And this gorgeous floral one from bonprix definitely needs a new outing at the blog (already posted in here). I wore this outfit on Saturday, when I had a lovely afternoon shopping and having dinner with my flatmate.
That was my look for this week's Fatshion Faceoff. Now go ahead and click to see how the other girls styled their blazers :)!
Dani: DIY Fatshion (USA)
Mhairi: Lilybobombs Lovely Lumps (UK)
Mouna: Brussels Fatshion (Belgium)
Olivia: Wait Until The Sunset (Australia)
SHOP THE POST
* denotes a gifted item