Tags: challenge, Clothing at Tesco, Evans, F&F, fat fashion, fatshion, Fatshion Faceoff, Four Eyes, friends, Joe Browns, Matalan, OOTD, plus size, red lippy, Simply Be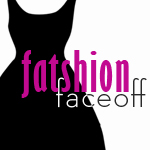 Hey my lovelies,
Once again it's Wednesday, and I'm sure you know it's Fatshion Faceoff time! If you're new to the blog, please see here what Fatshion Faceoff is about :). This week's item was chosen by Dani, and she chose a cosy jumper.
I'm quite obsessed with jumpers nowadays, the bigger the better, but sadly I haven't found too many that I love. One of them is this oversized Joe Browns jumper from Simply Be though, and I have worn it loads. This time I teamed it up with floral leggings from Tesco F&F, and added bling with this Evans necklace and glittery flats from Matalan. And as usual, finished with red lippy :).
Now let's go see what kind of cosy jumpers the other girls found from their closets :)
Dani: DIY Fatshion (USA)
Mhairi: Lilybobombs Lovely Lumps (UK)
Mouna: Brussels Fatshion (Belgium)
Olivia: Wait Until The Sunset (Australia)
SHOP THE POST
* denotes a gifted item