Double Vision: Winter coats
Tags: ASOS, ASOS Curve, challenge, Double Vision, Evans, fat fashion, fatshion, Four Eyes, friends, New Look, New Look Inspire, OOTD
Hey my lovelies,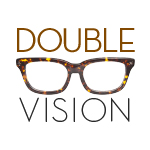 It's Sunday, and it's Double Vision time again! In this challenge my amazing friend Dani and I are choosing a theme, item, movie character.. whatever we come up with basically, and style those our own way and post at the same time, more about the challenge here. This week's theme was chosen by me, and I chose winter coats. I wanted to do this theme because I don't get to show my winter coats much in my posts, and I do love my coats! We decided to feature two coats, our favourite one and our newest one.
I want to start with my newest one, which is this pleather sleeved tweed coat from New Look. It's currently on sale (and I'm happy I waited until it went on sale, haha), and I love how it looks! The only minus (which is a big minus to me, I would have sent it back if I had bought it on full price) is that it doesn't have pockets! I might have to get some PU fabric and get pockets made or something, but otherwise it's a lovely coat :)
And the favourite winter coat then.. well that has to be this ASOS Curve beauty! I bought it last winter from sale, and it is amazing! I love its brightness and cosiness, it is exactly the right size for me.. it is absolutely perfect in my eyes :)
Do you have cosy winter coats? Do you like them bold or more on the classic side? I wonder what kind of coat is Dani's favourite? Let's click to DIY Fatshion and see!
SHOP THE POST
*denotes a gifted item