Fatshion Faceoff: Knitted jumper
Tags: ASOS, ASOS Curve, challenge, Eloquii, Evans, fat fashion, fatshion, Fatshion Faceoff, Four Eyes, friends, Matalan, Olivia Accessories, OOTD, plus size, review, We Love Colors
Hi my lovelies,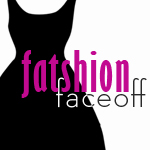 Once again it's Wednesday, and I'm sure you know it's Fatshion Faceoff time! If you're new to the blog, please see here what Fatshion Faceoff is about :). This week's challenge item was chosen by me, and I chose a knitted jumper.
I have been looking for BIG, oversized jumper for ages, and been disappointed time and time again. Then a few weeks ago when I went shopping with the lovely Caroline I finally found what I was looking for from Matalan sale. This jumper was exactly what I had been dreaming of, except for the fake collar and hem. I decided to go up two sizes though, since I really wanted it to look big and chunky. So I bought it, took my seam ripper out, and got rid of the collar and hem and voila – got my dream jumper!
I wore it with my perfect Eloquii blazer, ASOS Curve denim shorts, Evans boots and this absolutely gorgeous necklace I was sent by the lovely people at Olivia Accessories. The necklace is amazing, it looks soft, but it's actually metal. It definitely finishes this look nicely. I really loved this outfit, and will definitely wear it again! (I know, that goes against the idea of my blog, BUT I love this outfit too much not to do it! Haha.)
I used to think that wearing chunky tops makes me look even bigger than I am, and I guess it kind of does, but I balance it out with wearing the shorts with tights so that there's no extra bulk on my legs. (Not saying that something being 'flattering' is the most important thing in the world though, haha.) Do you like wearing chunky knitwear? What do you usually wear them with?
Now let's go see what the other Fatshion Faceoff girls are wearing with their jumpers…
Dani: DIY Fatshion (USA)
Mhairi: Lilybobombs Lovely Lumps (UK)
Mouna: Brussels Fatshion (Belgium)
Olivia: Wait Until The Sunset (Australia)
SHOP THE POST
*denotes a gifted item