Fatshion Faceoff: Denim vest
Tags: Accessorize, challenge, charities, Dorothy Perkins, fat fashion, fatshion, Fatshion Faceoff, Forever 21, Forever21+, Four Eyes, friends, H&M, Minnetonka, OOTD, plus size, Primark, red lippy, thrifting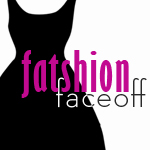 Hello lovelies,
Once again it's Wednesday, and I'm sure you know it's Fatshion Faceoff time! If you're new to the blog, please see here what Fatshion Faceoff is about :). This week's item was chosen by Dani, and she chose a denim vest.
This outfit totally made me miss summer. I love this skirt together with my Minnetonka's, and I love this denim vest!
Denim vest: 2X, Forever 21+ (similar at Bon Prix) | Jumper: 22, Dorothy Perkins (similar at Dorothy Perkins, similar at Evans, similar at ASDA) | Skirt: 20, Dorothy Perkins – thrifted (similar at Simply Be, similarish at Forever 21+) | Leggings: 20, Primark (similar at New Look Inspire) | Bag: H&M (similar at Dorothy Perkins) | Shoes: Minnetonka Moccasins (US link to Zappos) | Glasses*: Four Eyes | Lippy: Natural Collection Moisture Shine in Crimson – available in Boots (similar by MAC)
Ok, now I really need to see what kind of denim vests the other girls are rocking!
Dani: DIY Fatshion (USA)
Mhairi: Lilybobombs Lovely Lumps (UK)
Mouna: Brussels Fatshion (Belgium)
Olivia: Wait Until The Sunset (Australia)
SHOP THE POST
* denotes a gifted item