Tags: ASOS, ASOS Curve, challenge, Clements Ribeiro, Eloquii, Evans, fat fashion, fatshion, Fatshion Faceoff, friends, Matalan, Maybelline, New Look, OOTD, plus size, red lippy, Select Specs, Swan, Yours Clothing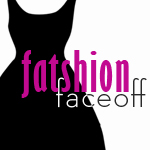 Hello lovelies,
Once again it's Wednesday, and I'm sure you know it's Fatshion Faceoff time! If you're new to the blog, please see here what Fatshion Faceoff is about :). This week's item was chosen by Olivia, and she chose a statement belt.
I totally felt like wearing my amazing tutu dress today.. it makes me feel great! So that is what I did, and thankfully the only statement belt I have looks good with it ;).
Belt: Clements Ribeiro Swan at Evans (statement belt at ASOS Curve) | Blazer: 18W US, Eloquii (similar) | Dress: 22, ASOS Curve via Becky's blogsale (similar) | Tights: Lycra Xceptionelle 40 denier 3D tights, Yours Clothing | Booties: Matalan (similar as wedges) | Glasses*: Select Specs | Necklace: New Look (similarish at ASOS) | Lippy: Maybelline colorsensational Pleasure Me Red (similar by MAC)
Then let's go see how the other ladies styled their belts :)!
Dani: DIY Fatshion (USA)
Mhairi: Lilybobombs Lovely Lumps (UK)
Mouna: Brussels Fatshion (Belgium)
Olivia: Wait Until The Sunset (Australia)
SHOP THE POST
* denotes a gifted item