Tags: challenge, DIY, Evans, fat fashion, fatshion, Fatshion Faceoff, friends, New Look, New Look Inspire, OOTD, plus size, Primark, red lippy, Rimmel
(Suomeksi kuvien alla)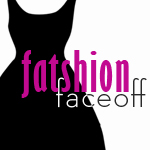 Hello my lovelies,
It's time for Fatshion Faceoff again! If you're new to the blog, please see here what Fatshion Faceoff is about :). This week's item was chosen by Dani, and she chose a maxi skirt.
I'm OBSESSED with maxi skirts at the moment, and I even bought two maxi dresses from New Look sale, and cut them into maxi skirts. This skirt is one of them, and the top is DIY too, as it is a dress from Primark that I cut into a top. The pics were taken when I was in Finland.. proper fashion victim moment, standing in a muddy field in a pleather top and long maxi skirt ;)







Top: 20, Primark (cut from a dress) | Skirt: 24, New Look Inspire (cut from a dress) | Boots: Evans | Necklace: Evans | Glasses: Select Specs | Lippy: Rimmel London Kate Moss shade 110
Paita: 20 UK, Primark (leikattu mekosta) | Hame: 24 UK, New Look Inspire (leikattu mekosta) | Bootsit: Evans | Kaulakoru: Evans | Rillit: Select Specs | Huulipuna: Rimmel London Kate Moss sävy 110
Heippa!
Nyt olis jälleen Fatshion Faceoffin aika. Jos et ole vielä tietoinen tästä 'projektista' jota teen 4 muun plussa-bloggaajan kanssa, niin lisätietoa (englanniksi) löytyy täältä. Tämän viikon teemaksi Dani valitsi maxihameen.
Mä olen nykyisin aivan hullaantunut maxihameisiin. Ostin jopa New Lookin alesta kaksi maximekkoa, jotka leikkasin hameiksi! Tämä on näistä hameista toinen, ja myös paita on tee-se-itse, sillä se on leikattu Primarkin mekosta. Kuvat on otettu kuukauden takaisella Suomen reissulla.. kunnon muodin uhri olen, tekonahkapaidassa ja pitkässä maxihameessa mutaisella pellolla ;)!
OTHER FF GIRLS / MUUT FF BLOGGAAJAT
Dani: DIY Fatshion (USA)
Mhairi: Lilybobombs Lovely Lumps (UK)
Mouna: Brussels Fatshion (Belgium)
Olivia: Wait Until The Sunset (Australia)